USC Board Tussle Spills Into OC
Monday, January 21, 2019
Share this article: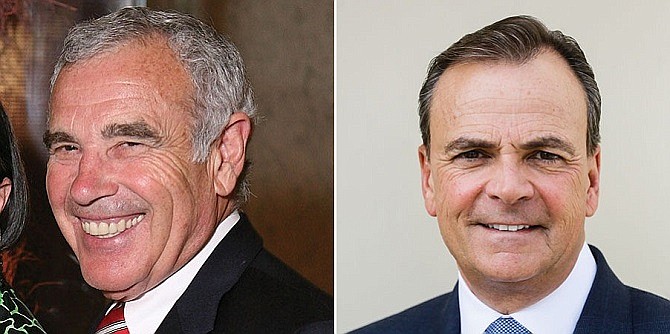 The Business Journal has received a copy of a letter sent this month from Fulgent Genetics Inc. Chief Executive Ming Hsieh to real estate tycoon and University of Southern California Board of Trustees Chair Rick Caruso, regarding the ongoing controversy over USC's decision to cut short the contract of Marshall School of Business Dean James Ellis.
The school's trustees last month voted to uphold interim President Wanda Austin's decision to terminate Ellis' contract at the business school, citing a report that criticized his handling of discrimination claims against other faculty members.
The decision has not gone over well with large portions of the school's financial backers, including a large contingent of notable Orange County-based business leaders.
Hsieh's Jan. 11 letter—following his removal from last month's board meeting—lists those executives, chastises Caruso for removing Ellis "without any legitimate basis," and can be read below.
Another real estate executive, Ed Roski, took Caruso to task for his handling of the situation in a letter addressed Dec. 19; their materials are also below.
News of that exchange was first reported by sister publication Los Angeles Business Journal and can be read here.
Sources familiar with the infighting at USC tell the Business Journal that an executive committee meeting is scheduled to take place this Wednesday, with the ongoing drama likely to take center stage.
The hearing could see calls made for the removal of Caruso and Austin from their positions at the school, those sources said.
*
Ming Hsieh Letter
January 11, 2019
Mr. Rick Caruso
Chairman, USC Board of Trustees
Caruso Affiliated
101 The Grove Drive
Los Angeles, CA 90036
Re: Transparency and Accountability at USC
Dear Rick:
I'm writing this letter as a member of the Board of Trustees out of concern about the way you have been conducting business since you became Chairman. Your job, as the new Chairman, is to make things better at USC, but you've roiled the school with the way you've handled important matters, and the one in particular addressed in this letter.
Publicly, you preach the importance of "transparency and accountability" as the way to address the multitude of issues facing USC, yet your actions and practices are just the opposite. I think your "words" are part of a self-serving agenda that does not have USC's best interests at heart. The situation with Jim Ellis, Dean of the USC Marshall School of Business, is a case in point.
You presided over an opaque process whereby Jim was removed without any legitimate basis and without informing him—or the Board of Trustees—of the underlying facts. Then you orchestrated and pushed through a Board "vote" approving Jim's removal, without telling the Trustees the true facts and, in fact, concealing them from the Board.
Corporate governance and fiduciary duties require that you should have disseminated the "facts" used by the Interim President in arriving at the decision to remove Jim; and this should have been done in advance of the Board meeting, so that Board members could be properly informed concerning the matter upon which you planned to have them vote. This didn't happen, and the ensuing decision sent shock waves from one end of the USC campus to the other.
I believe you did all this to curry favor with and make yourself look good in the press ¬as the "champion" of diversity. But serving as Chairman is not about making you look good. It's about being open and honest—"transparent"—and doing what's best for USC. It's your duty, as the Board's fiduciary, to ensure the Trustees get all the facts.
I want your actions to match your words.
A. Transparency
You didn't tell the Board that the "reasons" for Jim's removal were based on Office of Equity and Diversity (OED) complaints from 2008-2009—ancient history, when Jim was early on in this deanship and under circumstances where he inherited the problems of his predecessors. You didn't tell the Board that none of the complaints were against Jim personally. You didn't tell the Board that to the extent complaints were brought to Jim's attention, he dealt with them appropriately.
You didn't tell the Board that, since 2015, there has been, according to OED, a noticeable decline in complaints regarding the Marshall School. You did not provide the Board with any data comparing the incidence of OED complaints at Marshall to the number of complaints received at the various other schools on campus or business schools nationally, so that the Board would have the ability to view the Marshall School in proper context.
In fact, you did everything you could to make Jim look bad and make yourself look good. This is not how a Chairman of the Board is supposed to act.
You also didn't discuss the Cooley Report in any depth with the Board, and you didn't tell the Board how it came into existence or about its apparently ulterior purpose. And, adding insult to injury, you ousted me from the Board meeting on a phony pretext after limiting me to speaking for literally one minute.
You effectively prevented me—a Trustee who has given his all and millions of dollars to USC—from speaking his mind on this very important issue. Your action was arbitrary, discriminatory and contrary to everything the University stands for—openness, free speech and the interchange of viewpoints; and it's also rude and hurtful.
Nor did you tell the Trustees that the Cooley Report did not recommend the removal of Jim, or that it concluded there was no pervasive culture of gender or racial bias at the Marshall School or by the School's leadership team, including Jim. Don't you think the Trustees would have liked to know these facts?
No materials, not the Cooley Report nor anything else, were distributed to the Trustees before or at the meeting. In effect, you deprived the Trustees of the facts, orchestrated the presentation and effectively told them it was your way or the highway.
You also, in my opinion, were unclear and to a lot of the Trustees downright confusing as to exactly what you were asking them to vote on. You presented the matter as a decision by the Interim President, and you said she and she alone had discretion to make the decision. Then why present it for a vote at all?
You, in effect, told the Board that it was the Interim President's call and that they had no choice in the matter other than to back her up. Very confusing, orchestrated and high-handed. The Trustees never got the chance to review, and vote, on Jim Ellis as Dean on the merits.
You and the Interim President talk about changing "institutional culture" at Marshall. As one Marshall faculty member asked, what does this even mean? You owe it to the Board of Trustees—and the Marshall faculty and student body—to tell them what you're talking about, so they can determine if they even want your version of "institutional culture."
As also observed by the Marshall faculty member, you talk about USC's "core values," one of which, according to your own words, is transparency. You and the Interim President—¬who likely will soon be gone—have been anything but transparent in the reasons for removing Jim Ellis—no due process, no explanation on the merits (because there are none), nothing.
I want full and complete disclosure of all of the facts relating to the removal of Jim Ellis as Dean of the Marshall School, including the dissemination of any and all documents to the Board such as the Cooley Report. It is the legal right of every Trustee to have these documents, and it is your legal obligation to provide them.
Pursuant to California Corporations Code section 6334, "[e]very director shall have the absolute right at any reasonable time to inspect and copy all books, records and documents of any kind and to inspect the physical properties of the corporation of which such person is a director." Per Corporations Code section 6311, "the right to inspection includes the right to copy and make extracts."
These rights were denied to the Trustees including even the few Trustees who were forced to come to campus to review the Report and could neither make nor remove a copy from a private viewing room. Everybody—all the Trustees—should have all the facts well before they are asked to vote. We deal with sensitive "personnel" matters all the time and never before have we been denied access to pertinent information, such as the personnel files.
USC is a corporation, and the Trustees are members of its governing Board. The law requires full and effective disclosure. I've also learned that you withheld from the Trustees the results of a survey taken of the Marshall School's faculty shortly after Jim's dismissal was announced, survey results that overwhelmingly supported him and evidence a strong, positive, diverse and inclusive culture at Marshall (a copy is attached).
Under Corporations Code section 6336, the Superior Court can enforce the legal rights provided in sections 6334 and 6331. With all the lawyers you've hired and have on staff, including two who were present at the Board meeting, it's shocking that you failed to abide by the most basic—and important—requirement that the Trustees be fully informed of the facts.
Former chairman of the Board of Trustees, Ed Roski, said it well in addressing how you "handled" the recent Board meeting regarding the removal of Jim Ellis. The Roski letter of December 19, 2018 is attached to this letter, and if the Trustees haven't already read it, they certainly should as a part of their duties as Trustees.
Only when all the facts are on the table, and the underlying documents are provided, will there be the transparency proper governance—and the law—requires and that USC sorely needs. Once that is done, I request a Board meeting with a full, uncensored, unstifled discussion, and then a new, fair vote on Jim Ellis' status as Dean.
B. Accountability
You must be held accountable for what you've done here. To that end, I request that the Board appoint a Special Committee to examine your actions in this matter—including the abusive manner in which you treated me at the last Board meeting—and that the Committee address and make recommendations to the Board about your fitness to continue serving as Chairman.
Last, I understand that the Provost sought to muzzle Jim Ellis from speaking about his removal (see attached December 3, 2018 email from Michael Quick to Jim Ellis). This action is antithetical to everything for which USC stands. The Provost should withdraw this threat and rescind the gag order, so that Jim is free to speak without fear of reprisal.
Along the same lines, the Board should bring Jim in and ask him questions directly, given the importance of this matter and the controversy it has created. Jim's views should be heard and considered which, at this point, has not occurred because you have not permitted it to occur. It's neither adequate nor appropriate that his views be conveyed by you and Wanda alone.
C. Serious Harm to USC
Your actions are causing grievous harm to the school. Think about it: You and the Interim President removed a super-popular, super-successful Dean without any factual basis, to further your version of "institutional culture" and "core values." By your action, you've roiled the campus, the faculty, students, and Marshall School alumni and donors.
Under these circumstances, what qualified candidate would leave a good, stable position to come to a school governed by the Rick Caruso/Wanda Austin version of "core values" and "institutional culture?" And there's even a more serious and far-reaching issue implicated here: the search for a new President.
Surely, any reputable, qualified candidate will do his or her research and quickly come upon what you've done to Jim Ellis. Who would take the risk that you'll do the same thing to them? Jim Ellis has done everything, and more, to make the Marshall School successful, and look how you treat him.
I fear that this all will have a negative effect on the search for the new President, and it certainly has already been harmful to the University. In effect, you've turned USC into your own arbitrary and capricious fiefdom, where you do what suits you without regard for the consequences.
I'm deeply concerned for the University I graduated from, serve as a Trustee for and have given so much to; and I think other Deans, faculty members, students, alumni and donors share my concern for the way in which you've bungled the Jim Ellis situation and are acting overall.
Sincerely,
Ming Hsieh
Chairman/CEO
Fulgent Therapeutics
*
Rick Caruso Statement
01/16/2019
Mr. Hsieh was asked to temporarily leave the Board meeting due to a conflict of interest. That conflict was created because Mr. Hsieh was concurrently represented on the same matter and by the same attorney as Dean Ellis. Immediately prior to that Board meeting, Mr. Hsieh directed that attorney to send a letter to the Board outlining his disagreement with President Austin's decision. At the Board meeting, Mr. Hsieh expressed his position and then was asked to leave so that the Board could have a privileged and confidential conversation. He returned to the meeting immediately following that discussion. This process was consistent with the advice of counsel. Any implication that there was another reason for this decision is erroneous.
*
Ed Roski Letter
December 19, 2018
Mr. Rick Joseph Caruso
Chairman
Board of Trustees
University of Southern California
3670 Trousdale Parkway
Los Angeles, CA 90089
Dear Rick:
I am deeply troubled by your conduct at last week's Board of Trustees meeting. As both a former chairman and a member of the board for nearly 20 years, I must tell you that I have never before witnessed a member of the board behave so unprofessionally and recklessly as you did last Wednesday, let alone a chairman of the board. You abused the trust and authority vested in you by removing a trustee from the meeting for no discernible reason other than their position differed from your own.
Your arbitrary imposition of a one-minute speaking rule on Ming Hsieh—a rule that you pointedly did not apply to any other trustee in the meeting—it unfairly muzzled a dissenting viewpoint and is contrary to both good governance and the principles of free speech and intellectual discourse for which USC stands.
When Ming dared to speak longer than the one minute you so generously allotted to him, you verbally abused him, shouting him down: "You only have one minute! It's a minute and a half! You have to leave I" You then had him escorted from the boardroom and only permitted him to return when discussion of the Jim Ellis matter had ended.
How long did Wanda speak? How long did you speak? Are the two of you "super-¬trustees" so that you automatically get more time to state your case?
Rick, we don't win arguments here by shouting louder than the next guy. You took advantage of the fact that English Is Ming's second language to stifle his ability to make his case, even though he was one of the few members of the Board who had actually gone to the trouble and inconvenience of going to USC to read the Cooley report and the dean's personnel file, That information was pointedly not provided to board members either in advance of or during the meeting. Even the meager slides you projected on the screen during the meeting were illegible. Yet, after thoroughly shutting down a key opponent's viewpoint and otherwise limiting discussion, you called for a vote. Even though USC's Academic Senate protested the lack of transparency and shared governance in Wanda's decision to terminate Dean Ellis.
I, for one, was incredibly embarrassed by the way you treated a fellow trustee from a different culture and nationality than your own. The USC I know embraces diversity and inclusion; it does not reject and repel it, as you did by bullying Ming and ejecting him from the boardroom. Your purported rationale for your conduct and autocratic behavior-that Ming had hired an attorney-ls ludicrous. Alf of us have attorneys who represent us; are you going to silence the entire board, or just the members who disagree with you or come from a different ethnicity or nationality?
Ming is a wise, extremely smart and capable individual who has made invaluable contributions to this university since Joining the Board of Trustees 11 years ago, He Is a steadfast, loyal Trojan who only wants the best for USC.
Rick, your behavior shocked the conscience. I have never before seen another member of the board so callously degrade and marginalize a trustee as you did. I found your conduct extremely offensive. Like myself, Stanley Gold (former Chairman of the Board) felt so strongly about your bullying tactics and censorship of a trustee that he insisted that his objection to Ming's forced removal from the meeting be placed on the record, The minutes should reflect this, including the fact that you gave Ming only one minute to speak, threw him out of the meeting and only allowed him to return to register his vote. An accurate record of this meeting must be maintained for both transparency and accountability reasons.
All of this makes me wonder why you felt you could be so disrespectful to Ming and treat him in such a derogatory manner. Was it because of his background and position, his nationality, gender or race?
This is not the way we behave in society today, this is not what the University of Southern California stands for and this is not what the Board of Trustees is all about. I could literally feel the shock waves passing through my fellow trustees as you diminished Ming, first administering a loud, abrasive tongue lashing, then kicking him out of the meeting,
Rick, by preemptively silencing a board trustee, a trustee armed with the facts you deliberately chose not to make readily available to the rest of the Board, you ensured that your agenda would dominate the discussion and made the vote a foregone conclusion, Instead of damping the controversy, you stoked it. This is not leadership, this is manipulation, Because you are Chairman of the Board of Trustees, your irresponsible actions have lowered yourself, the Board and the very University we are here to serve. My strong recommendation would be for you to apologize to Ming and the Board of Trustees for your actions.
Sincerely yours,
Edward P. Roski, Jr.
cc: University of Southern California Board of Trustees