Midday Stock Roundup
Friday, January 18, 2019
Share this article: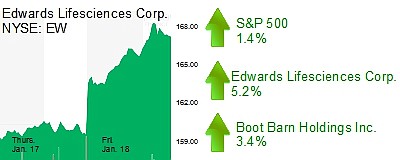 Stocks rose Friday after signs point to progress on U.S.-China trade dispute and New York Fed President John Williams' statement Friday on showing "prudence, patience."
The S&P 500 rose 1.4% in midday trading to 2,671.28.
The Dow Jones Industrial Average rose 1.4 % to 24,712.45.
The Nasdaq was up 1.3% to 7,175.29.
The yield on a 10-year Treasury bond rose 1.5% to 2.8%.
The price of gold was down 0.8% to $1,282.
The price of oil was up 2.8% to $53.54 a barrel.
RETAIL
Boot Barn Holdings Inc. (Nasdaq: BOOT) in Irvine was up 3.4% to $22.79 with a market cap of $642 million. The company's shares have climbed 36% since Jan. 2.
HEALTHCARE
Irvine-based Edwards Lifesciences Corp. (NYSE: EW) was up 5.2% with a market cap of $35 billion. The maker of devices for structural heart disease and critical care monitoring announced Thursday it would report earnings for the quarter ended Dec. 31 on Jan. 31.