Midday Stock Roundup
Wednesday, January 16, 2019
Share this article: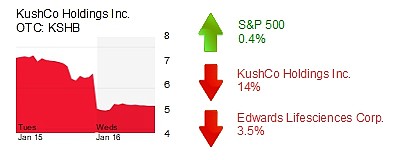 The S&P 500 was up 0.4% in midday trading to 2,620.10.
The Dow Jones Industrial Average climbed 0.7% to 24,227.40.
The Nasdaq ticked up 0.2% to 7,039.08.
The yield on a 10-year Treasury bond was 0.3% higher at 2.72%.
The price of gold rose 0.4% to $1,294.
The price of oil dropped 0.4% to $51.88 a barrel.
HEALTHCARE
Edwards Lifesciences Corp. (NYSE: EW) in Irvine was down 3.5% to $156.49 and a $32.7 billion market cap. The heart valve maker's shares rose about 9% yesterday after it agreed with competitor Boston Scientific to end the two companies' patent disputes.
MANUFACTURING
KushCo Holdings Inc. (OTC: KSHB) fell 14% to $5.17 and a $419 million market cap. The maker of cannabis paraphernalia said it will sell 6.5 million common shares and 3.25 million warrants to investors at a combined price of $5.25; a closing is expected Friday. Kush expects to use the $34 million in gross proceeds for working capital, product development and acquisitions. Separately KushCo agreed in principle to supply deals with three new, unnamed customers expected to bring in about $75 million in revenue over the next three years.