Midday Stock Roundup
Tuesday, January 15, 2019
Share this article: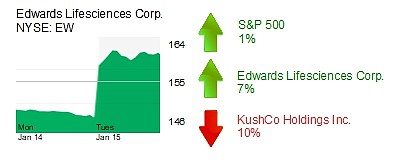 The S&P 500 rose 1% in midday trading to 2,608.28.
The Dow Jones Industrial Average increased 0.6% to 24,048.25.
The Nasdaq was up 1.5% to 7,011.43.
The yield on a 10-year Treasury bond increased 0.3% to 2.7%.
The price of gold fell 0.3% to $1,288.
The price of oil jumped 2.6% to $51.83 a barrel.
HEALTHCARE
Irvine-based Edwards Lifesciences Corp. (NYSE: EW) jumped 7% to $160.43 and a $33.5 billion market cap. The heart valve and critical care device maker today announced it will pay Boston Scientific Corp. (NYSE: BSX) $180 million as part of a patent settlement, freeing itself from any royalties and further litigation with the Massachusetts medical device maker.
MANUFACTURING
KushCo Holdings Inc. (OTC: KSHB) in Garden Grove plummeted 10% to $6.28 and a $509 million market cap. Shares of the maker of cannabis-related products are trading at more than double their daily average.