Midday Stock Roundup
Friday, January 11, 2019
Share this article: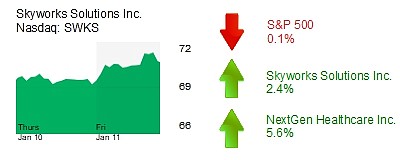 The S&P 500 declined 0.1% in midday trading to 2,593.56.
The Dow Jones Industrial Average fell 0.2 % to 23,950.85.
The Nasdaq was down 0.2% to 6,969.08.
The yield on a 10-year Treasury bond declined 1.3% to 2.7%.
The price of gold was up 0.3% to $1,290.
The price of oil was down 1.7% to $51.70 a barrel.
TECHNOLOGY
Chipmaker Skyworks Solutions Inc. (Nasdaq: SWKS) in Irvine was up 2.4% to $70.26 with a market cap of $12.5 billion. The company supplies its products to Apple, which plans to release release three new iPhone models later this year.
Shares of Santa Monica-based firm Activision Blizzard (Nasdaq: ATVI), whose subsidiary Blizzard Entertainment is based in Irvine, fell 9.7% to $46.36 with a market cap of $35.3 billion. The company said Friday it will sell all rights to its Destiny franchise back to independent developer Bungie.
HEALTHCARE
Irvine-based firm NextGen Healthcare Inc. (Nasdaq: NXGN) was up 5.6% to $17 and a market cap of $1.1 billion. The medical and dental practice management software provider has a 52-week high of $23.73.