Midday Stock Roundup
Thursday, January 10, 2019
Share this article: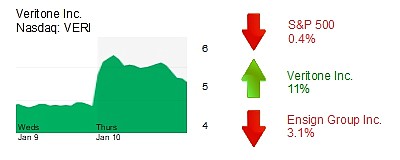 The S&P 500 fell 0.4% in midday trading to 2,575.66.
The Dow Jones Industrial Average declined 0.2% to 23,842.27.
The Nasdaq dipped 0.3% to 6,939.43.
The yield on a 10-year Treasury bond dropped 0.5% to 2.71%.
The price of gold was down 0.3% to $1,289.
The price of a barrel of oil fell 0.1% to $52.29.
TECHNOLOGY
Costa Mesa-based Veritone Inc. (Nasdaq: VERI) jumped 11% to $5 and a $98 million market cap. The online media ad-placement company that's trying to break into artificial intelligence reported higher fourth quarter revenue than it previously forecast.
HEALTHCARE
Ensign Group Inc. (Nasdaq: ENSG) in Mission Viejo fell 3.1% to $40.70 and a $2.1 billion market cap. Shares of the company, which runs assisted living and skilled nursing facilities, have fallen about 13% in the past month.