Midday Stock Roundup
Monday, January 7, 2019
Share this article: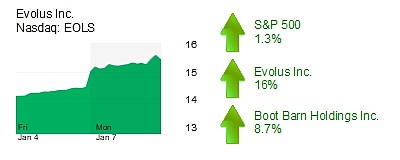 Stocks climbed as trade talks began between the U.S. and China. The S&P 500 was up 1.3% in midday trading to 2,565.27, while the Dow Jones Industrial Average increased 1% to 23,665.22 and the Nasdaq was up 1.6% to 6,848.37.
The yield on a 10-year Treasury bond was up 0.9% to 2.68%.
The price of oil was up 2.5% to $49.14 a barrel.
The price of gold was up 0.3% to $1,290.
HEALTHCARE
Evolus Inc. (Nasdaq: EOLS) in Irvine rose 16% to $15.63 and a $426 million market cap. Since going public last February at $12 a share, Evolus, which has its own version of Botox, reached a 52-week high of $39.50 last June.
RETAIL
Boot Barn Holdings Inc. (NYSE: BOOT) in Irvine was up 8.7% to $19.81 and a $561 million market cap. A Zacks analysis published on Friday said Boot Barn "has seen stronger estimate revision activity and sports more attractive valuation metrics" than a rival.