Midday Stock Roundup
Friday, January 4, 2019
Share this article: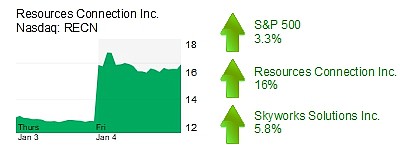 U.S. stocks rose after a strong jobs report and a speech by Fed Reserve Chairman Jerome Powell, who indicated patience with rate increases.
The S&P 500 rose 3.3% in midday trading to 2,527.90.
The Dow Jones Industrial Average was up 3.2 % to 23,417.01.
The Nasdaq was up 4.2% to 6,736.12.
The yield on a 10-year Treasury bond rose 4.2% to 2.66%.
The price of gold was down 0.7% to $1,285.
The price of oil was up 1.6% to $47.86 a barrel.
SERVICES
Resources Connection Inc. (Nasdaq: RECN) shares jumped 16% to $15.76 with a market cap of $497 million. The Irvine-based consulting company yesterday reported second quarter earnings of 33 cents per share, beating analyst estimates of 23 cents per share. Revenue was $188.8 million, up 20% year-over-year.
TECHNOLOGY
Irvine-based chipmaker Skyworks Solutions Inc. (Nasdaq: SWKS) climbed 5.8% to $64.27 with a market cap of $11.4 billion. Shares have fallen 36% since this time last year.