Midday Stock Roundup
Wednesday, January 2, 2019
Share this article: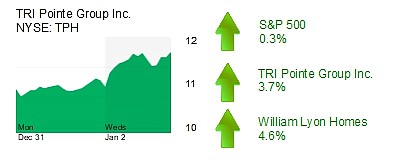 The S&P 500 was up 0.3% in midday trading to 2,513.91.
The Dow Jones Industrial Average rose 0.2% to 23,367.59
The Nasdaq climbed 0.6% to 6,673.64
The yield on a 10-year Treasury bond declined 0.6% to 2.67%.
The price of gold was 0.3% higher to $1,285.
The price of oil jumped 4.3% to $47.37.
REAL ESTATE
OC homebuilder stocks rose on investor expectation that U.S. interest rates will end 2019 at or below current levels. The Wall Street Journal reported, "Fed funds futures which investors use to bet on the direction of Federal Reserve policy … showed an 87% probability" of this—a reversal from early November when futures prices showed a 90% expectation that rates will rise."
TRI Pointe Group Inc. (NYSE: TPH) was up 3.7% to $11.34 and a $1.6 billion market cap. William Lyon Homes (NYSE: WLH) in Newport Beach hiked 4.6% higher to $11.18 and a $422 million market cap. New Home Co. Inc. (NYSE: NWHM) in Aliso Viejo rose about 14% to $5.95 and a $122 million market cap.
Shares in these three have fallen about 40% to 60% over the last 12 months, as interest rates rose steadily in 2018 and markets showed steep declines in December.