Midday Stock Roundup
Wednesday, February 27, 2019
Share this article: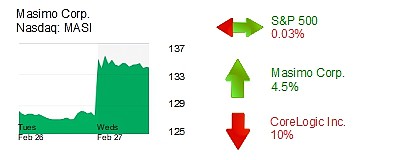 The S&P 500 was flat in midday trading at 2,792.96.
The Dow Jones Industrial Average declined 0.2% to 26,019.44.
The Nasdaq ticked up 0.1% to 7,552.97.
The yield on a 10-year Treasury bond jumped 1.7% to 2.68%.
The price of gold was 0.5% lower to $1,322.
The price of oil climbed 3.2% to $57.28 a barrel.
HEALTHCARE
Masimo Corp. (Nasdaq: MASI) rose 4.5% to $133.62 and a $7 billion market cap. The Irvine-based medical device maker yesterday reported higher fourth quarter revenue and earnings that also beat analyst expectations.
REAL ESTATE
CoreLogic Inc. (NYSE: CLGX) in Irvine fell 10% to $36.38 and a $2.9 billion market cap. The real estate services provider yesterday reported fourth quarter revenue declined 11% to $403 million because of a 25% drop in mortgage volumes. The average estimate of analysts was sales of $412 million.