Evolus Gets FDA Nod For First Product
HEALTHCARE: STOCK SURGES, NEW HIRES ON TAP
Wednesday, February 13, 2019
Share this article: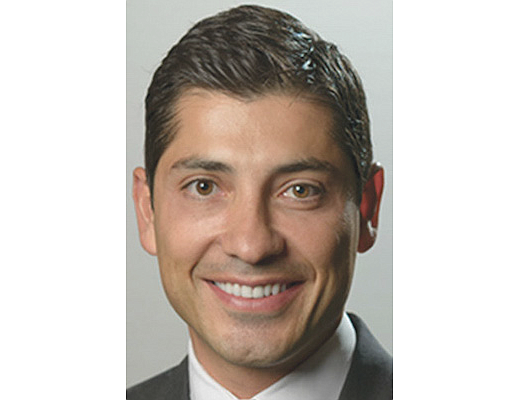 Shares of Evolus Inc. increased nearly 70% in the week after the Newport Beach-based company announced it won regulatory approval to sell a cheaper version of Allergan PLC's best-known product, Botox.
Evolus (Nasdaq: EOLS) said on Feb. 1 that the Food and Drug Administration approved its first product, Jeuveau, which can now be used for the temporary improvement in the appearance of moderate to severe frown lines.
Shares traded as high as $28.50 on Feb. 7 before settling to $27.11 and a $739.4 market cap at press time. They were at a low of $10.22 on Dec. 24. Shares also dipped in the $10 range last May when the FDA initially declined to approve the company's flagship product citing manufacturing related issues.
The company was valued at about $280 million when it went public last year at $12 per share.
"We are extremely excited to bring a premium brand to the aesthetic [neurotoxin] market," Chief Executive David Moatazedi told the Business Journal.
He noted Jeuveau is pronounced like "nouveau," which is French for "new modern" because "the industry hasn't had anything like it."
Many of Evolus' executives have connections to the Botox maker, including Moatazedi, who prior to joining last May was senior vice president of U.S. medical aesthetics at Allergan, and the top local official for the company's Irvine campus.
The overall facial injectable market has a lot of room for players besides Allergan, he said.
"The market is growing in a single-digit compounded growth rate—the addressable market is highly underpenetrated," Moatazedi said.
Evolus plans to introduce the product throughout the U.S. at physician offices starting this spring. It currently employs about 60 total and plans to hire more than 100 direct sales reps.
Trending Younger
Evolus, which began in 2012, has focused on getting its product approved.
To date, it hasn't recorded revenue and has an accumulated deficit of $110.6 million as of Sept. 30.
The company is majority owned by Irvine-based Alphaeon Corp., which holds a 56% stake in the company.
Evolus Chairman Vikram Malik has a long investment banking history, including with Deutsche Bank Securities Inc. and Banc of American Securities LLC.
Evolus' primary market is what it calls "the self-pay aesthetic market," which includes medical products and services that are not reimbursed by any third-party payer, such as Medicaid, Medicare or commercial insurance.
The self-pay aesthetic market is projected to grow to $2.3 billion by 2020, with the U.S. market generating about half of that amount, the company estimates.
Jeuveau's differentiator will be its focus as a dedicated aesthetics product in contrast to Botox and other offerings, which are approved for both aesthetics and therapeutic indications.
"We are going to market focusing on only one gender, our female consumers," said Chief Marketing Officer Michael Jafar, who also joined the Evolus last year from Allergan. He served as vice president of medical aesthetics.
The product targets younger consumers between the ages of 19 and 34—often referred to as millennials—who now outnumber baby boomers—73 million versus 72 million he said.
This younger group is more willing to get so-called minimally invasive shots to improve their appearance.
"We are looking at Gen X, millennials—this demographic that grew up with the procedure and are more comfortable with it," he said.
Lawsuits
While Allergan reported top seller Botox generated revenue of $946 million in the fourth quarter, $415.9 million of that made up aesthetics, the pharmaceutical company is frowning at the competition.
Allergan, along with its Botox partner Medytox Inc., filed a complaint on Jan. 30 against Evolus and partner Daewoong Pharmaceutical Co. Medytox and Daewoong are South Korean companies.
The complaint, filed with the U.S. International Trade Commission, alleged that a former Medytox employee stole trade secrets on the results of its research on a new manufacturing process for the neurotoxin and gave them to Daewoong.
Evolus' product Jeuveau is based on a compound it licensed from Daewoong. The latter markets the product in South Korea under the brand name Nabota.
The product will be marketed in the U.S. about 20% to 25% cheaper than Botox, according to Moatazedi.
Botox typically sells for about $10 to $20 a unit; upwards of 20 units are used to eliminate wrinkles on a patient's forehead.
Evolus said Allergan and Medytox's claims are without merits, representing another attempt "to stifle competition and limit physician and consumer choice."
Moatazedi said the complaint will not affect the company's launch timeline.
Allergan, along with litigation, is working on a new form of neurotoxin it licensed from Medytox. It hopes to get FDA approval in 2022.
Shares of Allergan fell about 4% last week, after news of Evolus' FDA approval. The N.J.-based company is valued at about $46 billion.
Legacy Team
On top of Moatazedi and Jafar, who both came from Allergan, Evolus last May also tapped Lauren Silvernail as chief financial officer. She previously served a similar role at Revance Therapeutics Inc. (Nasdaq: RVNC).
Newark-based Revance is also developing a neurotoxin that competes with Botox.
"We all joined [Evolus] because we see a significant opportunity here, not just about Botox, but the [medical aesthetics] market," Moatazedi said.