Midday Stock Roundup
Monday, February 11, 2019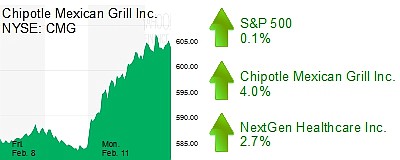 The S&P 500 was up 0.1% in midday trading to 2,710.95.
The Dow Jones Industrial Average dipped 0.1% to 25,082.76.
The Nasdaq climbed 0.2% to 7,311.68.
The yield on a 10-year Treasury bond rose 1.4% to 2.70%.
The price of gold decreased 0.5% to $1,312.
The price for a barrel of oil fell 1.2% to $52.11.
RESTAURANTS
Chipotle Mexican Grill Inc. (NYSE: CMG) in Newport Beach was up 4% to $606.62 and a $16.7 billion market cap. The casual food chain reached a new 52-week high after reporting better-than-expected fourth-quarter earnings last week.
HEALTHCARE
Shares of Evolus Inc. (Nasdaq: EOLS) continue to climb following the company's Feb. 1 announcement that it received FDA approval for Jeuveau, a wrinkle treatment product that will compete against Allergan PLC's Botox. Evolus' shares are up 12% to $29.83 and an $814 million market cap. The shares have jumped 83% since the announcement.
Irvine-based NextGen Healthcare Inc. (Nasdaq: NXGN) increased 2.7% to $17.63 and a $1.1 billion market cap. NextGen today announced an agreement to collaborate with Availity LLC, a provider of real-time health information.