Midday Stock Roundup
Friday, February 8, 2019
Share this article: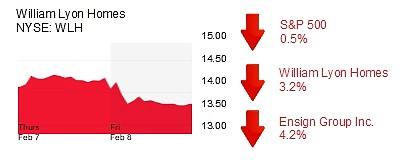 The S&P 500 declined 0.5% in midday trading to 2,692.52.
The Dow Jones Industrial Average was down 0.7% to 24,991.08.
The Nasdaq was off 0.5% to 7,254.03.
The yield on a 10-year Treasury bond declined 0.8% to 2.6%.
The price of gold was up 0.3% to $1,318.
The price of oil was up 0.1% to $52.67 a barrel.
REAL ESTATE
Newport Beach-based home builder William Lyon Homes Inc. (NYSE: WLH) was down 3.2% to $13.54 with a market cap of $511 million. The company's shares have declined 44% year-over-year. It reports fourth quarter results next week.
HEALTHCARE
Ensign Group (Nasadaq: ENSG) was down 4.2% to $46.92 with a market cap of $2.4 billion. Shares of the Mission Viejo-based company, which runs assisted living and skilled nursing facilities, have risen 24% since the beginning of this year. This week it reported earnings of 54 cents per share, beating the average of three analysts' estimates of 51 cents per share.