City of Hope Buys NB Office; Irvine Project Still in Works
Thursday, February 7, 2019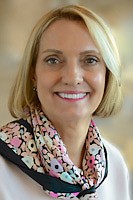 The City of Hope is coming to Orange County, a few years earlier than expected.
And it's not skimping to do so.
The nonprofit operator of cancer care clinics, research centers and manufacturing facilities last month completed the purchase of a glitzy two-story office near Fashion Island shopping center.
The property, at 1601 Avocado Ave. in Newport Beach, is Duarte-based City of Hope's first facility in OC.
A second, larger facility in Irvine is still in the works, but that ground-up building is at least three years away from opening.
The 12,500-square-foot building in Newport Beach will house medical services like breast and other medical oncology, and provide patient access to a variety of subspecialists.
City of Hope paid nearly $14 million for the building. It's one of about 30 locations it has in Southern California.
In addition to cancer, the nonprofit treats diabetes and other life-threatening diseases.
Its patients have access to nearly 500 clinical trials a year. It's one of 49 comprehensive cancer centers in the country, according to the National Cancer Institute.
"We're a whole lot more than just a cancer hospital," said Annette Walker, president of City of Hope's OC operations.
At a price close to $1,100 per square foot, the just-completed sale is the highest on record for an Orange County office sale larger than 10,000 square feet, according to the Newport Beach office of CBRE Group Inc., whose Anthony DeLorenzo, Gary Stache and Doug Mack worked on the transaction.
The building's been used in the past for medical imaging and other medical services. It was sold by a private Newport Beach-based investor, according to property records.
Less Travel
The Newport Beach facility should open in the fourth quarter, according to Walker.
City of Hope is still figuring out staffing plans for the 12,500-square-foot building, Walker said.
It will likely include a mix of subspecialty care physicians who already live in OC but travel to other City of Hope facilities, and new employees, she said.
The site should help provide some relief to the nearly 3,500 people in OC who travel to locations outside the area for cancer treatment. Duarte in Los Angeles County—home to City of Hope's main campus—is nearly 50 miles from Newport Beach.
About 20% of all OC residents diagnosed with cancer travel outside county lines for treatment, according to the nonprofit.
The spot is "really responding to patient need, responding to our own patients' sense of urgency and the burden for them to travel" to the hospital's 100-acre campus in Duarte, said Walker, who joined the nonprofit last summer.
Prev Next