January Auto Sales Up
Monday, February 4, 2019
Share this article: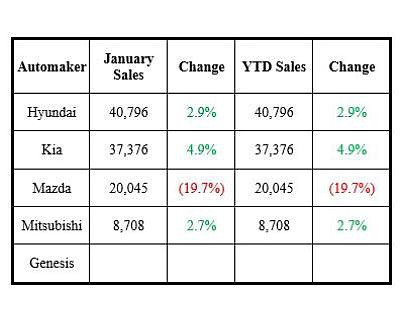 Three of OC's four biggest automakers began the year with increased sales despite citing challenges from the government shutdown and polar vortex.
Hyundai Motor America in Fountain Valley reported a 2.9% increase in sales for the month, selling 40,796 units. It sold more than 21,000 SUVs, which represented 51% of its total sales volume.
Irvine-based Kia Motors America sold 37,376 vehicles for the month, up 4.9% year-over year. The automaker said sales were led by its Soul model, which posted a 19.5% increase over the same period last year.
Mitsubishi Motors North America in Cypress reported its best January sales since 2007 selling 8,708 units, up 2.7% year-over-year. However, the automaker said sales were still impacted by the government shutdown and polar vortex.
The only automaker to report a sales decline was Irvine-based Mazda North America Operations. It sold 20,045 vehicles, down 19.7%.
Fountain Valley-based luxury carmaker Genesis Motor America did not disclose its sales numbers as it's in the midst of establishing a new dealer network.