Midday Stock Roundup
Tuesday, December 31, 2019
Share this article: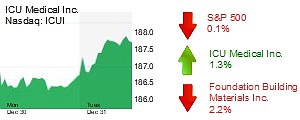 The S&P 500 was down 0.1% at 3,217.66 at the midday on the last trading day of the year.
The Dow Jones Industrial Average fell 0.2% to 28,411.24.
The Nasdaq was flat at 8,947.19.
The yield on a 10-year Treasury bond rose 1.47% to 1.92%.
The price of gold increased 0.3% to $1,523.40.
The price for a barrel of oil fell 0.3% to $61.48.
HEALTHCARE
Medical device maker ICU Medical Inc. (Nasdaq: ICUI) of San Clemente rose 1.3% to $187.64 per share for a market cap of $3.9 billion. Earlier in the day, website Slater Sentinel published on its website a report saying that ICU Medical beats Arch Therapeutics on eight of 12 investment factors taken into consideration in a comparison of the two stocks.
Irvine-based Urovant Sciences Ltd (Nasdaq: UROV) jumped 9.3% to $14.31 and a $435 million market cap. The company, which treats overactive bladders, yesterday said it submitted a new drug application to the Food and Drug Administration for approval of once daily vibegron medication. "Our NDA submission for vibegron is a significant milestone for our company and brings us one step closer to potentially providing a new oral therapy to a highly dissatisfied market," Chief Executive Keith Katkin said in a statement.
REAL ESTATE
Foundation Building Materials Inc. (NYSE: FBM) of Santa Ana, a distributor of wallboard, ceiling systems and other products, fell 2.2% to $18.98 per share for a market cap of $816 million. Earlier in the day, website Simply Wall St asked whether the company's "debt is making the company risky," adding that while the company seems to be able to grow its EBIT confidently, its "interest cover gives us cold feet."