Midday Stock Roundup
Thursday, December 19, 2019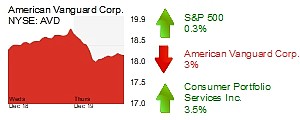 The S&P 500 and Dow Jones Industrial Average were both up 0.3% to 3,202.31 and 28,338.42 respectively in midday trading.
Nasdaq gained 0.5% to 8,874.43.
Crude oil also rose by 0.5% to $61.25 a barrel.
The price of gold was up 0.4% to $1,485.
The yield on a 10-Year Bond fell 1.2% to 1.90%.
MANUFACTURING
American Vanguard Corp. (NYSE: AVD) in Newport Beach fell 3.4% to $18.06 a share with a $545 million market cap at midday trading. The shares are still up 39% since Oct. 24.
FINANCE
Irvine-based Consumer Portfolio Services Inc. (Nasdaq: CPSS) rose 3.9% to $3.45 a share at midday trading with an $80 million market cap. Volume of 201 was far below the average daily volume of 13,150. Consumer Portfolio provides indirect automobile financing for people with past credit problems.