Midday Stock Roundup
Monday, December 16, 2019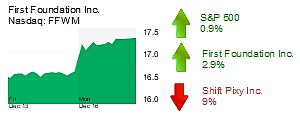 U.S. stocks climbed Monday following a positive report on Chinese economic activity.
The S&P 500 500 rose 0.9% to 3,196.00.
The Dow Jones Industrial Average increased 0.6% to 28,294.54.
The Nasdaq was up 1% to 8,827.17.
The yield on a 10-year Treasury bond surged 3.6% to 1.89%.
The price of gold fell 0.1% to $1,479.
The price of a barrel of oil inched up 0.3% to $60.24.
FINANCE
First Foundation Inc. (Nasdaq: FFWM) in Irvine rose 2.9% to $17.23 and a $769 million market cap. D.A. Davidson maintained its buy rating on the Irvine bank and wealth manager in a Monday report, expects it "to post stronger EPS growth than the majority of our covered companies, and values its asset generation strength." It upgraded its price target from $16.75 to $19.50. Shares are up 29% since the start of the year.
TECHNOLOGY
Irvine-based ShiftPixy Inc. (Nasdaq: PIXY) dropped 9% to $7.50 and a $7 million market cap. The tech-based restaurant staffing company today carried out a 1:40 reverse stock split, cutting its outstanding shares in the open market, a new sign of distress for the company.