Alteryx Plunges 11%
Wednesday, December 11, 2019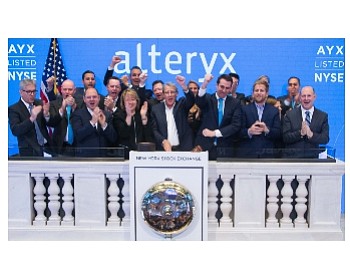 Shares of Irvine-based data analytics software maker Alteryx Inc. (NYSE:AYX) plummeted 11% and the reasons for the drop remained unclear.
Volume of 3.9 million shares was twice the daily average as Alteryx fell to $95.89 per share for a market cap of $6.2 billion as of 10:30 a.m. Pacific time. The stock has fallen about 34% since a high of $147.79 a share on Sept. 6.
"I'm not seeing anything Alteryx-specific to explain the move, I would point out that a lot of high-multiple names are getting crushed today, like Atlassian, Slack, Fastly, and Coupa, perhaps on fear of a potential economic slowdown," Rishi Jaluria, a senior research analyst at D.A. Davidson & Co., told the Business Journal.
After the stock began its slide, Alteryx Chief Financial Officer Kevin Rubin made a previously scheduled presentation at the Raymond James Technology Investors Conference in New York.
"Someone asked if there's any reason their stock is down 10% and management said no" at the conference, Jaluria said.