Midday Stock Roundup
Wednesday, December 4, 2019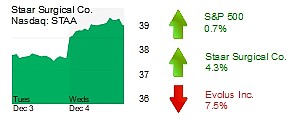 The S&P 500 rose 0.7% in midday trading to 3,114.02.
The Dow Jones Industrial Average was also up 0.7% to 27,690.92.
The Nasdaq climbed 0.6% to 8,567.44.
The yield on a 10-year Treasury bond leapt 4.2% higher to 1.78%.
The price of gold ticked down 0.3% to $1,480.
The price for a barrel of oil jumped 4.4% to $58.58.
HEALTHCARE
Staar Surgical Co. (Nasdaq: STAA) in Lake Forest rose 4.3% to $38.42 and a $1.7 billion market cap. Analysts at BTIG initiated coverage on shares in the maker of implantable lenses for eye care with a buy rating and $46 price target. Canaccord Genuity and Benchmark last month maintained buy ratings with price targets of $45 and $50. A mention of Staar today on a stock watching website cited its low debt—$43 million due over 12 months or more—compared with cash and receivables of $145 million, and earnings that have more than doubled in the last year.
Newport Beach's Evolus Inc. (Nasdaq: EOLS) declined 7.5% to $12.78 and a $427 million market cap. Volume of 1.1 million shares was more than twice the daily average. The aesthetics medicine company on Nov. 7 priced the public offering of 5.2 million shares at $13 apiece and said net proceeds of $63.5 million will be used to fund the commercialization of its flagship Jeuveau anti-wrinkle neurotoxin product.
FINANCE
Santa Ana's Banc of California Inc. (NYSE: BANC) rose 3.3% to $15.75 and an $800 million market cap. The Santa Ana bank holding company named a new CFO last month; shares are up about 17% since a mini-trough at about $13.50 mid-year.