Midday Stock Roundup
Monday, December 2, 2019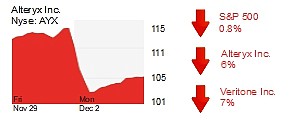 Major U.S. indexes fell during midday trading following news of tariffs on metal imports from Brazil and Argentina, compounded by a weak manufacturing report released Monday.
Both the S&P 500 and the Dow Jones Industrial Average are down 0.8% to 3,117.98 and 27,818.65, respectively, while the Nasdaq dropped 1.2% to 8,557.94.
The yield on a 10-year Treasury bond jumped 3.1% to 1.83%.
The price of gold dipped 0.3% to $1,468.
The price of oil surged 1.7% to $56.12 a barrel.
TECHNOLOGY
Alteryx Inc. (NYSE: AYX) dropped 6% to $106.50 and a $7 billion market cap. The Irvine-based maker of data analytics software is still up 83% since the start of the year.
Costa Mesa-based Veritone Inc. (Nasdaq: VERI) is down 7% to $2.81 and a $69.2 million market cap. Shares for the company, which provides businesses with artificial intelligence technologies, have plunged 13% in the past week, and are currently up 17% from its 52-week low of $2.43 which it hit last month.