Midday Stock Roundup
Wednesday, August 28, 2019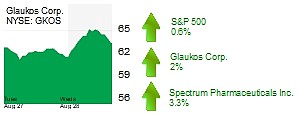 The S&P 500 rose 0.6% in midday trading to 2,885.69.
The Dow Jones Industrial Average climbed 0.8% to 25,992.01.
The Nasdaq was up 0.3% to 7,850.55.
The yield on a 10-year Treasury bond plunged 2.4% to $1.46%.
The price of gold declined 0.1% to $1,550 an ounce.
The price of oil rose 1.8% to $55.94 a barrel.
HEALTHCARE
Glaukos Corp. (NYSE) GKOS rose about 2% to $60.75 and a $2.2 billion market cap. Shares are down about 28% this month since the San Clemente glaucoma device maker reported a higher quarterly loss year-over-year.
Irvine-based Spectrum Pharmaceuticals Inc. (Nasdaq: SPPI) rose 3.3% to $7.59 and an $849 million market cap. The oncology drugmaker's shares are down about 16% year-to-date.