Midday Stock Roundup
Thursday, August 8, 2019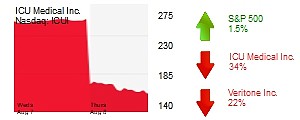 The markets rose after China signaled a more stable Yuan.
The S&P 500 rose 1.5% to 2,927.81 while the Nasdaq jumped 1.8% to 8,004.69 and the Dow Jones was up 1% to 26,306.12.
Crude Oil rose 2.2% to $52.21.
Gold fell 0.7% to $1,508.80.
The yield on a 10-year Treasury bond jumped 4.3% to 1.76%.
HEALTHCARE
ICU Medical Inc. (Nasdaq: ICUI) plummeted 34% in midday trading to $162.43 and a $3.3 billion market cap. The maker of infusion therapy devices yesterday reported second quarter adjusted profit of $1.99, missing the average analyst estimate of $2.09. Chief Executive Vivek Jain said in a statement that "second quarter revenue, adjusted EBITDA and adjusted EPS were below our expectations." The shares are at their lowest since June of 2017.
TECHNOLOGY
Veritone (Nasdaq: VERI) shares dove 22% to $5.34 and a $107 million market cap. The company yesterday reported second quarter earnings.