Midday Stock Roundup
Monday, August 5, 2019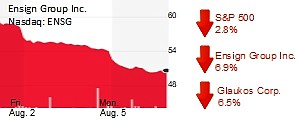 Major U.S. indexes plunged more than 2% apiece during midday trading following the weakening of the Chinese yuan against the dollar, the latest sign of trade war tensions.
The S&P 500 fell 2.8% to 2,848,88; the Dow Jones Industrial Average dropped 2.9% to 25,727.36; and the Nasdaq plummeted 3.4% to 7,727.62.
The yield on a 10-year Treasury bond tumbled 5.4% to 1.75%.
The price of gold increased 1.3% to $1,464.
The price of a barrel of oil slipped 0.5% to $55.36.
HEALTHCARE
Mission Viejo-based Ensign Group Inc. (Nasdaq: ENSG) was down 6.9% to $50.31 and a $2.88 billion market cap. On Friday, the healthcare facilities operator reported a 14% increase in quarterly revenues to $575 million, beating analyst expectations. A Stifel Nicolaus analyst reduced the recommendation from overweight to hold.
Glaukos Corp. (NYSE: GKOS) dropped 6.5% to $75.81 and a $2.86 billion market cap. Shares for the San Clemente glaucoma device maker have decreased 10% percent since Aug. 1, when it reached a 52-week high of $84.65. The company will release its second quarter financial results on Wednesday.