MO HONARKAR THINKS BIG FOR CITY REVITALIZATION
Laguna Beach's $1B Makeover
Friday, August 2, 2019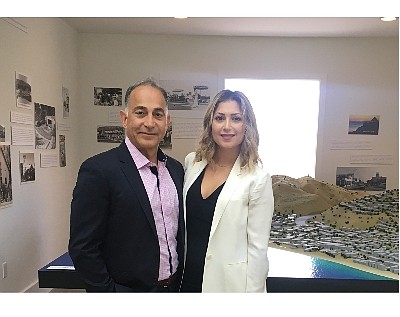 "That definitely adds a challenge, but we feel it's important to get that designation, and honor the property's history," Honarkar said.
Honarkar has a plan to invest an additional $250 million above the purchase price into the redevelopment of Hotel Laguna and properties immediately next to it; it wouldn't be the most expensive of six different developments he's trying to push ahead in the city.
A project in the Laguna Arts District that could cost twice that amount would, under his vision, hold a fair amount of apartments for students, seniors and downtown workers like police and firefighters.
Keeping these people in town has a lot of benefits, one of which is a reduction in traffic, he said. Furthermore, "there's plenty of opportunity in the canyon."
There's been pushback to Honarkar's idea to implement workforce housing, which he says is "desperately needed."
"People in Orange County say we need more affordable housing, but they don't want it in their backyard," Honarkar said. "It needs to be done."
Partner Possibilities
Money shouldn't be an issue for Hotel Laguna or any of the projects being proposed, said Honarkar, who also said he's already lined up financing: "me and the banks."
Honarkar is undecided about whether or not to bring in an equity partner for the undertakings, but said he's willing talk to anyone interested in helping turn the proposed projects into reality. "I'm happy to work with others."
Ultimately, getting the developments through a labyrinth of the city, California Coastal Commission and other hard-to-please interest groups are likely to be the biggest challenge, not financing (see story, below).
If all were to go well—a big if—the Hotel Laguna project could start work next year, and the entire batch of development would be likely be built in phases over the next decade or so. They would be staggered to minimize work during peak busy seasons along the coast.
The Projects
Mo Honarkar's roughly $1 billion investment plans for Laguna Beach includes six proposed projects, all currently under review by the city.
"We opted to share our plans with the city before officially submitting the proposals to ensure we are being transparent with the public," said Hasty Honarkar, Mo's daughter and vice president at Laguna Creative Ventures, the creative arm of Laguna Beach Co., the entity overseeing the development.
The proposals include three hotel projects, one for housing, and two mixed-use redevelopments.
Here's what's been disclosed to date for six of the larger projects: