MO HONARKAR THINKS BIG FOR CITY REVITALIZATION
Laguna Beach's $1B Makeover
Friday, August 2, 2019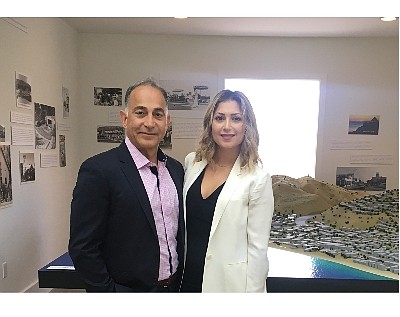 Mo Honarkar, a longtime Laguna Beach resident, businessman and investor in many of the city's best-known properties, has a $1 billion plan to revitalize his hometown.
His proposal: a mix of new and redeveloped boutique hotels, hotel casitas and modestly priced apartments, art and education-related space and other commercial projects in a variety of spots along Coast Highway and Laguna Canyon Road. It would be the largest undertaking of its type in the famed coastal city in decades.
It's a much-needed boost to the city's flagging downtown, which increasingly is seeing shops and other businesses close their doors, due to a longtime slow-growth mentality at the beach city that's gradually morphed into a no-growth one, Honarkar argues.
"It's becoming a ghost town," said Honarkar, among the city's largest investors with a fortune the Business Journal estimates at around $500 million, thanks to a collection of varied business interests he's built up over the past few decades (see profile, page 37).
"For years, a vocal minority has made it difficult for anyone from outside the area to do any development."
Local Flavor
That's one reason Honarkar thinks his ambitious plan, now in the planning process, has a chance to succeed.
Honarkar—who has lived in the city for over 20 years—has possibly assembled the largest collection of buildings and properties in Laguna Beach; he owns or controls numerous well-known sites including the Royal Hawaiian and Terra Laguna Beach restaurants, the Seven Degrees wedding venue and the 14 West boutique hotel.
In January, he made his most prominent real estate deal yet, taking over seven properties along South Coast Highway, including the iconic Hotel Laguna.
That long-term land lease agreement gives his firm control of all but one building between Laguna Avenue and Legion Street in the Central Bluffs neighborhood of the city, all along Coast Highway.
The best-known site Honarkar is taking over is Hotel Laguna, a 64-room property next to the Main Beach Park in the heart of downtown.
It's one of the oldest buildings in the city with roots dating back to the 1880s. Its current structure was reportedly built around 1930. It's been closed since the end of 2017.
"We would restore it to its original look," while also adding a pool, rooftop bar and casitas to the site, he said.
The design has input from the National Register of Historic Places; he plans on getting the hotel added to the list.
Prev Next