Midday Stock Roundup
Monday, April 29, 2019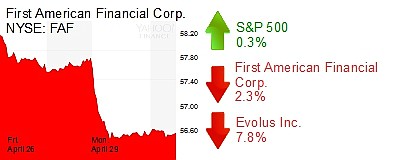 The S&P 500 was up 0.3% in midday trading to 2,947.44.
The Dow Jones Industrial Average rose 0.1% to 26,575.83.
The Nasdaq increased 0.3% to 8,167.92.
The yield on a 10-year Treasury bond climbed 0.9% to 2.68%.
The price of oil grew 0.3% to $63.47 a barrel.
The price of gold dipped 0.6% to $1,280.
FINANCE
First American Financial Corp. (NYSE: FAF) in Santa Ana decreased 2.3% to $56.54 and a $6.3 billion market cap. The title insurance company reported flat first quarter revenues of $1.3 billion last week. Shares are up 26% since the beginning of the year.
HEALTHCARE
Newport Beach-based Evolus (Nasdaq: EOLS) dropped 7.8% to $26.16 and a $718 million market cap. Shares for the aesthetics medicine company, which will report first quarter earnings on Tuesday, are still up more than 100% year to date.