Midday Stock Roundup
Wednesday, April 24, 2019
Share this article: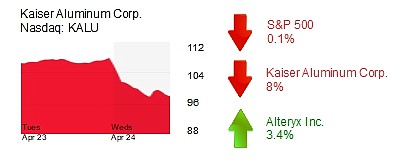 The S&P 500 was down 0.1% in midday trading to 2,930.29.
The Dow Jones Industrial Average declined 0.2% to 26,611.03
The Nasdaq was flat at 8,117.64.
The yield on a 10-year Treasury bond dove 1.8% to 2.52%.
The price of gold rose 0.4% to $1,279.
The price of oil fell 0.8% to $65.78 a barrel.
TECHNOLOGY
Alteryx (NYSE: AYX) in Irvine was up 3.4% to $86.42 and a $5.4 billion market cap. The data analytics software maker opened an office in Dubai last week and reports results May 1. Shares have doubled in the past year.
MANUFACTURING
Foothill Ranch-based Kaiser Aluminum Corp. (Nasdaq: KALU) was down 8% to $98.60 and a $1.6 billion market cap. The metals maker yesterday reported first quarter sales that didn't meet the consensus estimate of five analysts surveyed by Zacks Investment Research. The company warned of future declines based on Boeing cutting back production of the 737-MAX airliner.
RESTAURANTS
BJ's Restaurants Inc. (Nasdaq: BJRI) was up 3% to $47.33 and a $997 million market cap. The Huntington Beach-based casual dining chain reports results Thursday. The S&P 600 Restaurants Index climbed 1.9% today.
SERVICES
Clean Energy Fuels Corp. (Nasdaq: CLNE) was down 4.8% to $3.27 and a $668 million market cap. The Newport Beach-based company operates natural gas fueling stations and has contracts with municipal truck and bus fleets to supply them with the fuel. It reports results on May 9.