John Wayne Airport Traffic Up
Tuesday, April 23, 2019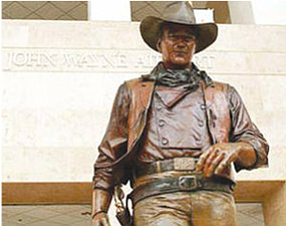 John Wayne Airport passenger traffic rose 2.8% in March to 923,500 compared with the same month last year; first quarter traffic was up 2% to 2.5 million.
There were about 26,000 flights to and from the OC airport last month, up 2.7% from March 2018. Through the first three months of 2019, flights decreased 5% to 70,000.
General aviation, which accounted for about 68% of total aircraft operations in March, rose 1.5% to nearly 18,000 flights.
Commercial flights in March increased 1.4% to about 7,700. Commuter flights, or scheduled flights on planes with fewer than 70 seats, continue to see large gains following the launch of JetSuiteX last year, surging 700% to 400 flights in March.
International passengers increased 3% last month to 16,700 while flights were flat at 175.
The three busiest airlines in March by passenger count were Southwest Airlines at 326,000; American Airlines with 150,600; and United Airlines with 140,000.