Midday Stock Roundup
Thursday, April 18, 2019
Share this article: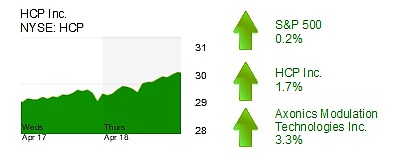 The S&P 500 rose 0.2% to 2,905.94.
The Dow Jones climbed 0.4% to 26,561.88.
The Nasdaq was flat at 7,995.82.
The yield on a 10-year Treasury fell 1.2% to 2.56%.
The price of gold decreased 0.1% to $1,275.
The price of oil was down 0.2% to $63.64 a barrel.
HEALTHCARE
Shares of Orange County healthcare-related investors rose today in line with the 1.5% increase of the FTSE NAREIT Equity Health Care Index. Irvine's HCP Inc. (NYSE: HCP) was up 1.7% to $29.64 and a $14.4 billion market cap. Mission Viejo's The Ensign Group (Nasdaq: ENSG) increased 1.6% to $47.55 and a $2.6 billion market cap while San Clemente's CareTrust REIT Inc. (Nasdaq: CTRE) climbed 1.2% to $23.35 and a $2.2 billion market cap.
Axonics Modulation Technologies Inc. (Nasdaq: AXNX) in Irvine increased 3.3% to $19.15 and a $537 million market cap. Today's increase stopped a five-day slide that saw the shares fall 16%. The company is awaiting FDA approval for its implantable devices used for the treatment of overactive bladder and bowel dysfunction.