Midday Stock Roundup
Friday, April 12, 2019
Share this article: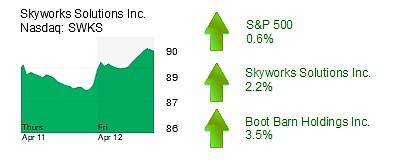 The S&P 500 was up 0.6% in midday trading to 2,904.63.
The Dow Jones Industrial Average increased 0.9% to 26,382.47.
The Nasdaq rose 0.3% to 7,974.72.
The yield on a 10-year Treasury bond jumped 1.8% to 2.55%.
The price of gold was up 0.1% to $1,294.
The price of oil rose 0.8% to $64.11 a barrel.
RETAIL
Boot Barn Holdings Inc. (NYSE: BOOT) was up 3.5% to $30.42 with a market cap of $861 million. The Irvine-based specialty retailer, whose share price has a history of following the price of oil, has a 52-week high of $31.61. Boot Barn has the biggest jump today compared with a group of six other peers.
TECHNOLOGY
Irvine-based chipmaker Skyworks Solutions Inc. (Nasdaq: SWKS) was up 2.2% to $90.18 with a market cap of $16 billion. Shares of the company have increased 32% this year. It's the second best performer today among 14 other peers. The S&P Semiconductors Select Industry Index today rose 1.2% to 1,990.81.
CANNABIS
Garden Grove's KushCo Holdings Inc. (OTC: KSHB) rose 4.3% to $5.77 and a $510 million market cap. KushCo, the largest cannabis related company based in Orange County, yesterday reported fiscal second quarter revenue jumped 240% to $35.2 million and it boosted its fiscal 2019 revenue forecast to between $140 million to $150 million, up from a prior prediction of $110 million to $120 million.