Midday Stock Roundup
Monday, April 1, 2019
Share this article: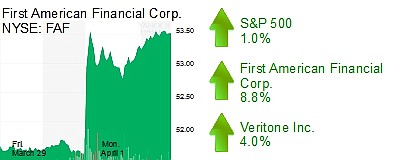 Stocks jumped in midday trading after strong manufacturing data from China helped alleviate concerns about a slowdown in global growth.
The S&P 500 was up nearly 1% to 2,861.66, the Dow Jones Industrial Average increased 1% to 26,198.00 and the Nasdaq rose 1% to 7,814.24.
The yield on a 10-year Treasury bond climbed 3.3% to 2.5%.
The price of gold was down 0.3% to $1,295.
The price of a barrel of oil rose 2.2% to $61.44.
FINANCE
First American Financial Corp. (NYSE: FAF) increased 4% to $53.56 and a $5.9 billion market cap. Piper Jaffray today upgraded the shares to overweight. Shares of the Santa Ana-based title insurance company are up 20% since the beginning of the year.
TECHNOLOGY
Costa Mesa-based Veritone Inc. (Nasdaq: VERI) surged 8.8% to $5.66 and a $110 million market cap. Daily volume of 291,000 was about a third of the daily average of the past three months. Shares of the company that's trying to break into artificial intelligence are down about 60% in the past year.