Midday Stock Roundup
Monday, September 24, 2018
Share this article: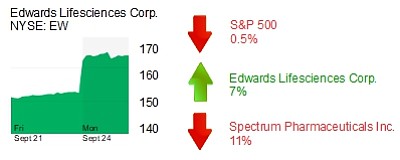 The S&P 500 was down 0.5% in midday trading to 2,914.82.
The Dow Jones Industrial Average declined 0.7% to 26,561.98.
The Nasdaq dropped 0.3% to 7,967.41.
The yield on a 10-year Treasury bond rose 0.5% to 3.08%.
The price of gold was up 0.4% to $1,206.
HEALTHCARE
Edwards Lifesciences Corp. (NYSE) in Irvine was up 7% to $164.36 and a $34.4 billion market cap. A Barron's article said the heart valve maker could be a takeover target of Johnson & Johnson. The N.J.-based device maker and consumer products company was down about 2% to a $378 billion market cap.
Spectrum Pharmaceuticals Inc. (Nasdaq: SPPI), also in Irvine, was down 11% to $19.04 and a $2 billion market cap on the release of data from a Phase 2 study of one of its cancer drugs.