Innovators Honored
Thursday, September 20, 2018
Share this article: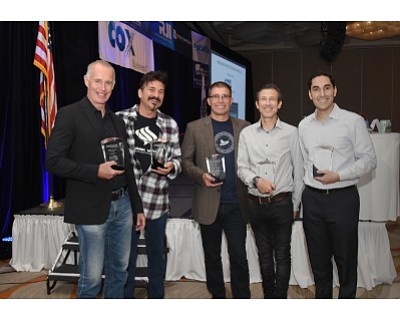 Members of Orange County's business community gathered Thursday at Hotel Irvine for the Business Journal's fourth annual Innovator of the Year Awards.
Richard Sudek, chief innovation officer and executive director of UCI Applied Innovation, delivered the keynote address. Sudek, who also serves as chairman emeritus of Tech Coast Angels, has helped UCI Applied Innovation grow into one of the most significant hubs for innovation and groundbreaking discoveries.
The 2018 winners are:
Kyle Kamrooz, co-founder and chief strategy officer of Cloudvirga in Irvine
Mike Hopkins, chief executive of Ice Energy in Costa Mesa
Nick Newsom, founder and chief executive of Ytel Inc. in Foothill Ranch
Michael Seres, co-founder and chief executive of 11 Health and Technologies Inc. in Tustin
David Patrick, chief technology officer of Shark Wheel in Lake Forest
Each of the winners will be profiled in the Business Journal's print edition of Oct. 1st.