Midday Stock Roundup
Friday, September 14, 2018
Share this article: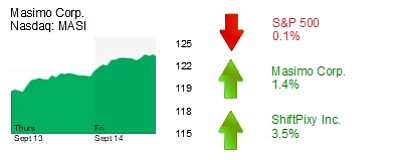 The S&P 500 ticked down 0.1% in midday trading to 2,901.51.
The Dow Jones Industrial Average declined 0.2% to 26,102.73.
The Nasdaq was also down a bit, by 0.1%, to 8,005.25.
The yield on a 10-year Treasury bond rose 0.7% to 2.99%.
The price of gold was down 0.6% to $1,201.
HEALTHCARE
Masimo Corp. (Nasdaq: MASI) in Irvine was up 1.4% to $123 and a $6.4 billion market cap. Analysts at Needham initiated coverage on the patient monitoring device maker with a "buy" rating and a $139 price target.
SERVICES
ShiftPixy Inc. (Nasdaq: PIXY) in Irvine was up 3.5% to $3.89 and a $112 million market cap. Shares in ShiftPixy, which provides app-based temporary and shift-worker provider to restaurants, are up 30% in the last 30 days, as it began efforts to employ food delivery drivers directly for restaurants and launched a national accounts campaign; it has offices in Irvine, New York, Chicago, Orlando, and Austin, Texas.