August Auto Sales Mixed
Tuesday, September 4, 2018
Share this article: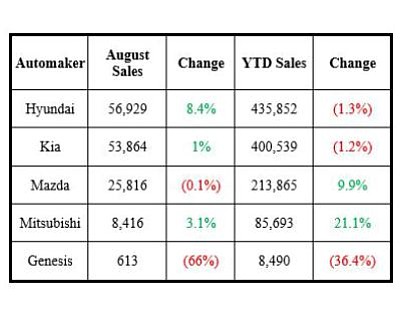 Sales were mixed for OC automakers last month.
Fountain Valley-based Hyundai Motors North America saw sales rise 8.4% year-over-year in August, selling 56,929 units. It reported its highest August SUV sales in the company's history, selling a total of 27,678 units, up 30% year-over-year. Year to date sales declined slightly by 1.3% to 435,852 units.
However, sales of its Genesis brand dropped 66% for the month, selling 613 units. For the year, sales declined 36.4% to 8,490 units.
Irvine-based Kia Motors North America inched up by 1% selling 53,864 units for the month, but sales remain down 1.2% for the year, with 400,539 units sold. Vice President of Sales Operations Bill Peffer said its Rio, Optima and Sorento "closed the summer sales period with impressive year-over-year gains" and expects the momentum to continue with the release of its 2019 Forte.
Mazda North American Operations in Irvine reported total July sales of 25,816 units, a slight decline of 0.1%. For the year, sales were up 9.9% with 213,865 vehicles sold.
Cypress-based automaker Mitsubishi Motors North America reported its best August sales month since 2008 selling 8,416 units, up 3.1%. It reported year-to-date sales of 85,693 units, up 21.1%.