Midday Stock Roundup
Wednesday, October 31, 2018
Share this article: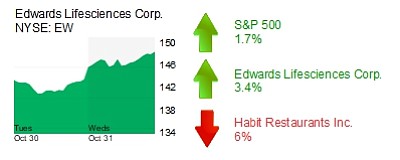 Indexes were up following Facebook's earnings report and a general lift in technology stocks.
The S&P 500 rose 1.7% to 2,729/07; the Dow Jones Industrial Average 1.5% to 25,245.95; the Nasdaq 2.5% to 7,342.25.
The yield on a 10-year Treasury bond jumped 1% to 3.14%.
The price of gold declined 1% to $1,214.
HEALTHCARE
Edwards Lifesciences Corp. (NYSE: EW) in Irvine was up 3.4% to $147.43 and a $30.8 billion market cap. The heart valve maker's shares are up 8% in the last two sessions after being named in a stock picker research report yesterday. Year-to-date shares are up about 25% for OC's largest publicly traded company.
RESTAURANTS
Habit Restaurants Inc. (Nasdaq: HABT) in Irvine was down 6% to $13.35 and a $346 million market cap. The fast casual burger chain yesterday reported third quarter revenue climbed 24% to $104.6 million while it swung to a loss because of a charge related to three restaurants in the Orlando, Fl., area. The shares are still up 55% from a 52-week low in May.