Midday Stock Roundup
Tuesday, October 23, 2018
Share this article: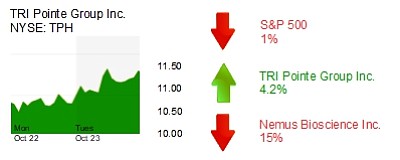 Indexes are down about 1% apiece on global economic growth worries and weak earnings outlooks from 3M Co. and Caterpillar Inc.; earlier today, the markets dropped almost 2%.
The S&P 500 was down 1% to 2,729.12. The Dow Jones Industrial Average fell 0.9% to 25,087.27 and the Nasdaq lost 1% to 7,390.70.
The yield on a 10-year Treasury bond plunged 1.7% to 3.14%.
The price of gold rose 0.7% to $1,234.
REAL ESTATE
OC home builders and developers were up as the big three here prepare to report earnings this week and next. TRI Pointe Group Inc. (TPH) in Irvine, which reports tomorrow, was up 4.2% to a $1.7 billion market cap. Newport Beach-based builder William Lyon Homes (WLH), which reports Oct. 30, climbed 6.7% to a $511 million market cap. Aliso Viejo-based New Home Co. Inc. (NWHM), which reports Oct. 25, rose 4.6%, hitting about $151 million on market cap. All three trade on the NYSE market.
CANNABIS
Shares in marijuana-focused companies, all traded over-the-counter, declined.
KushCo Holdings Inc. (KSHB) in Garden Grove was down 3.5% to $4.88 and a $384 million market cap. Kush got its start as a maker of packaging for legal cannabis companies and has recently become a holding firm for multiple related ventures including product distribution, selling gases and solvents for cannabinoid extraction, and marketing and branding services.
Nemus Bioscience Inc. (NMUS) in Costa Mesa, which is trying to develop drugs to treat glaucoma and nausea suffered by chemo patients, was down 15% to 36 cents and a $48 million market cap. Two weeks ago it said majority owner Emerald Health Sciences Inc. (Other OTC:EHS) in Canada will provide a $20 million credit line and buy up to 10 million shares of Nemus common stock on the open market.
GreenGro Technologies Inc. (GRNH) in Westminster was down 8.4% to 3 cents a share and a $13 million market cap. It makes vertical cultivation systems and other products.