Midday Stock Roundup
Monday, October 22, 2018
Share this article: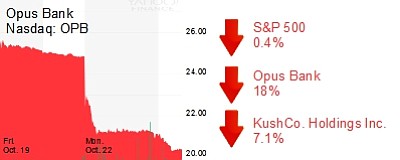 The S&P 500 fell 0.4% in midday trading to 2,757.12.
The Dow Jones Industrial Average dropped 0.6% to 25,303.78.
The Nasdaq rose 0.5% to 7,483.85.
The yield on a 10-year Treasury bond declined 0.3% to 3.19%.
The price of gold was 0.3% lower at $1,224.
FINANCE
Opus Bank (Nasdaq: OPB) plummeted 18% to $20.35 and a $733 million market cap. The Irvine bank reported third quarter earnings of 25 cents a share, missing the Zacks consensus estimate of 36 cents.
CANNABIS
KushCo. Holdings Inc. (OTC: KSHB) dropped 7.1% to $5.10 and a $389 million market cap. The shares have fallen in five straight trading sessions and are now down 16% since Oct. 15. Terra Tech Corp. (OTC: TRTC), an Irvine-based supplier of cannabis, was also down today, falling 6.7% to $1.80 and a $140 million market cap.