Midday Stock Roundup
Friday, October 19, 2018
Share this article: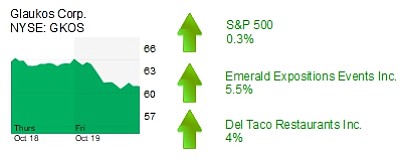 The S&P 500 rose 0.3% in midday trading to 2,776.39.
The Dow Jones Industrial Average was up 0.5% to 25,503.41.
The Nasdaq was down 0.2% to 7,473.20.
The yield on a 10-year Treasury bond rose 0.9% to 3.20%.
The price of gold remained flat at $1,230.
HEALTHCARE
Ophthalmic medical tech firm Glaukos Corp. (Nasdaq: GKOS) declined 4% to $60.11 and a $2.1 billion market cap. Shares of the San Clemente-based company have almost doubled since the same time last year.
RESTAURANTS
Del Taco Restaurants Inc. (Nasdaq: TACO) in Lake Forest was up 4% to $10.59 and a market cap of $404 million. The fast food chain's shares dropped 6.8% to $10.13 on Wednesday after it revised its full-year guidance downward in its most recent quarterly report.