Midday Stock Roundup
Tuesday, October 16, 2018
Share this article: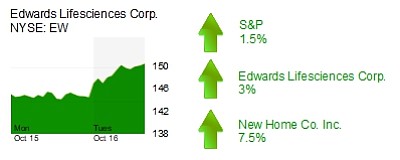 U.S. stocks jumped on a broad rally across all 11 sectors of the S&P 500, which rose 1.5% in midday trading to 2,791.69.
The Dow Jones Industrial Average increased 1.4% to 25,607.65.
The Nasdaq soared 2% to 7,580.68.
The yield on a 10-year Treasury bond fell 0.2% to 3.16%.
The price of gold rose 0.1% to $1,232.
HEALTH
Heart valve maker Edwards Lifesciences Corp. (NYSE: EW) in Irvine was up 3% to $146.30 and a $30.7 billion market cap. Barclays analyst Kristen Stewart yesterday initiated coverage with an "underweight" rating and a price target of $143.
REAL ESTATE
Aliso Viejo-based The New Home Co. Inc. (NYSE: NWHM) jumped 7.5% to $7.30 and a $152 million market cap amid strong gains across major U.S. indexes. The builder plans to release third quarter financials Oct. 25. Its shares price is down 42% this year.