Midday Stock Roundup
Friday, October 12, 2018
Share this article: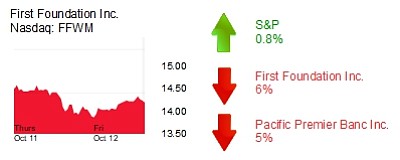 U.S. stocks rebounded on Friday, following steep drops in the prior two trading sessions.
The S&P 500 rose 0.8% in midday trading to 2,749.17.
The Dow Jones Industrial Average was up 0.5% to 25,187.17.
The Nasdaq jumped 1.4% to 7,434.17.
The yield on a 10-year Treasury bond rose 0.3% to 3.14%.
The price of gold declined 0.3% to $1,223.
FINANCE
Irvine-based First Foundation Inc. (Nasdaq: FFWM) dropped 6% to $14.36 and a $635 million market cap. Shares of the bank and wealth manager are almost at a 52-week low.
Pacific Premier Bancorp, Inc. (Nasdaq: PPBI) in Irvine was down 5% to $33.45, hitting a new 52-week low. The bank will report its third quarter results on Oct. 23. Its market cap is $2 billion.