Midday Stock Roundup
Tuesday, October 9, 2018
Share this article: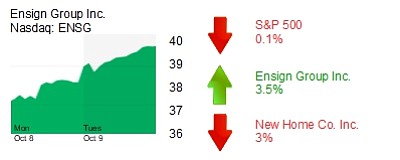 The S&P 500 fell 0.1% in midday trading to 2,880.64.
The Dow Jones Industrial Average declined 0.3% to 26,420.68.
The Nasdaq inched up 0.1% to 7,739.87.
The yield on a 10-year Treasury bond decreased 0.5% to 3.22%.
The price of gold was up 0.2% to $1,191.
HEALTHCARE
Ensign Group Inc. (Nasdaq: ENSG) in Mission Viejo was up 3.5% to $39.45 and a $2 billion market cap. Shares of the company, which runs assisted living and skilled nursing facilities, are up about 69% this year.
REAL ESTATE
Aliso Viejo-based The New Home Co. Inc. (NYSE: NWHM) fell 3.5% to $7.49 and a $156 million market cap. Shares in the builder were trading today at less than half their daily volume; the stock has fallen almost in half this year.