Midday Stock Roundup
Friday, October 5, 2018
Share this article: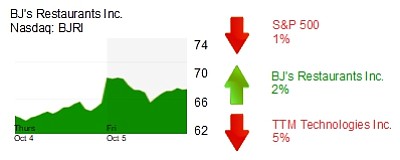 Indexes were lower today on sales of tech stocks and higher Treasury bond yields.
The S&P 500 fell 0.9% in midday trading to 2,874.44.
The Dow Jones Industrial Average declined 1.0% to 26,355.33.
The Nasdaq was down 1.7% to 7,747.00.
The yield on a 10-year Treasury bond was up 1.3% to 3.24%.
The price of gold rose 0.3% to $1,205.
RESTAURANTS
Shares of Huntington Beach-based BJ's Restaurants Inc. (Nasdaq: BJRI) increased 2% to $67.60 following an upgrade to an overweight rating by Piper Jaffray. The firm's price target is $76. The restaurant chain has a $1.4 billion market cap.
TECHNOLOGY
TTM Technologies Inc. in Costa Mesa declined 5% to $14.55 and a $1.5 billion market cap. Shares of the printed circuit board maker have fallen 25% since their 52-week high on Aug. 2 following its second quarter report.