Midday Stock Roundup
Wednesday, October 3, 2018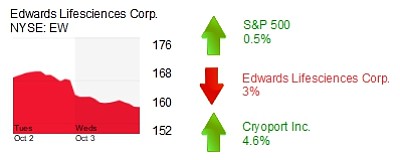 The S&P 500 was up 0.5% in midday trading to 2,936.83.
The Dow Jones Industrial Average rose 0.6% to 26,927.09.
The Nasdaq climbed 0.7% to 8,051.80.
The yield on a 10-year Treasury bond jumped 3% to 3.15%.
The price of gold declined 0.3% to $1,203.
HEALTHCARE
Edwards Lifesciences Corp. (NYSE: EW) in Irvine was down 3% to $157.35 and a $33 billion market cap. The heart valve maker's shares have dropped about 8% this week after last week's 13% spike on rumors it might be bought by Johnson & Johnson.
Cyroport Inc. (Nasdaq: CYRX) in Irvine was up 4.6% to $13.10 and a $374 million market cap. The life sciences logistics company today said it will work with Minneapolis-based software maker Be The Match BioTherapies to deliver "end-to-end supply chain services to the cell and gene therapy industry."