September Auto Sales Down
Tuesday, October 2, 2018
Share this article: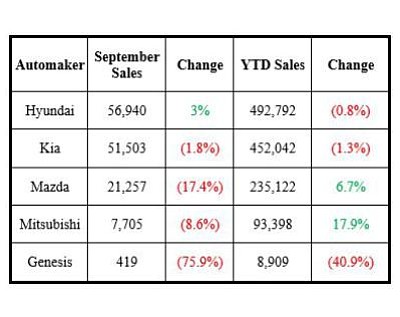 Nearly all of the OC automakers reported a drop in September sales on Tuesday with the exception of Fountain Valley-based Hyundai Motors North America.
Hyundai sold 56,940 units last month, up 3% from a year ago, while year-to-date sales were relatively flat at 492,792 units sold.
Sales of its luxury brand Genesis sold 419 units in September, an 80% drop from the same period in 2017. For the year, sales also declined about 41% to 8,909 vehicles. Hyundai in March decided to stop Genesis imports to clear inventory as it works on relaunching its dealership model next year.
Irvine-based Kia Motors North America sold 51,503 units, a 2% drop. Sales year-to-date were down 1% to 452,042 units.
Mazda North American Operations in Irvine reported total September sales of 21,257 units, down 17% from September of 2017. For the year, sales were up 7% with 235,122 vehicles sold.
Cypress-based automaker Mitsubishi Motors North America also reported a decline for the month selling 7,705 units, down 9%. It reported year-to-date sales of 93,398 units, up 18%.