Midday Stock Roundup
Tuesday, November 20, 2018
Share this article: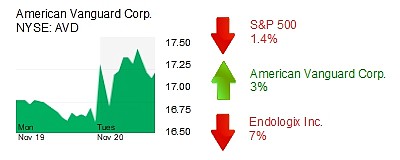 Indexes continued declines that began yesterday as a technology sector sell-off continued.
The S&P 500 was down 1.4% to 2,652.34, the Dow Jones Industrial Average 1.7% to 24,587.38, and the Nasdaq 1.3% to 6,937.90.
The yield on a 10-year Treasury bond ticked up 0.1% to 3.06%.
The price of gold was 0.2% lower at $1,223.
AGRICULTURE
Newport Beach-based chemicals maker American Vanguard Corp. (NYSE: AVD) rose 3% to $17.25 and a $525 million market cap. Shares are up about 10% in the past month but down for the year.
HEALTHCARE
Endologix Inc. (Nasdaq: ELGX) in Irvine fell 7% to 88 cents and a $91 million market cap. Shares in the maker of a device to treat abdominal aortic aneurysms have dropped 83% since Aug. 1.
Nemus Bioscience Inc. (OTC: NMUS) in Long Beach was up 26% to 48 cents and a $64 million market cap. Shares in the cannabis-based pharmaceuticals developer have doubled in the six weeks since majority owner, Canada-based Emerald Health Sciences, agreed to loan Nemus up to $20 million and buy $10 million of its common shares on the open market.