Device Maker Glaukos Moving HQ to Aliso Viejo
REAL ESTATE: 3-OFFICE LEASE BIGGEST IN OC IN 2018
Monday, November 19, 2018
Share this article: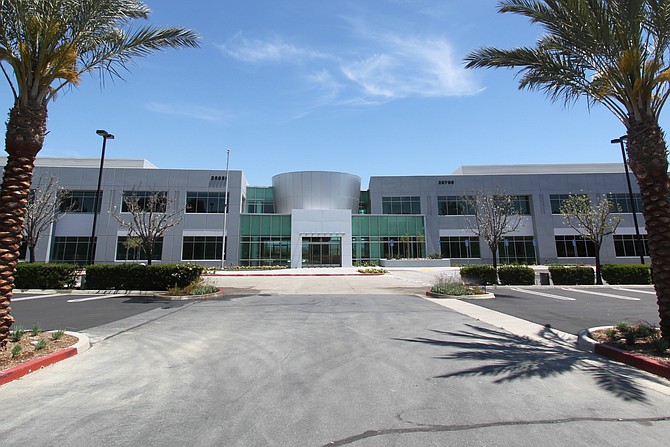 Fast-growing medical device maker Glaukos Corp. is moving its headquarters from San Clemente to Aliso Viejo, after striking the largest office lease of the year in Orange County.
The 17-year-old company, whose iStent products are used to treat glaucoma, a major cause of blindness, finalized a deal last week to move its operations to the Element office campus, which consists of three two-story buildings on Aliso Viejo Parkway.
The company will occupy the entire 160,000-square-foot campus starting in the middle of next year.
Financial terms of the 13-year lease weren't immediately disclosed. By square footage, it's the biggest office lease since mid-2017, according to data from real estate market tracker CoStar Group Inc.
The relocation will nearly triple the space occupied by Glaukos (NYSE: GKOS), whose implantable stents are designed to drain excess fluid from the eye to alleviate intraocular pressure, and thereby prevent glaucoma and related vision issues.
Glaukos' current operations in San Clemente total about 86,000 square feet and include manufacturing space as well as its headquarters.
It intends to maintain the San Clemente facilities "for the foreseeable future," according to a regulatory filing last Friday.
The company employed 387 people at the end of last year, according to regulatory filings. The Aliso Viejo space should comfortably hold about 550 employees, according to John Drachman, principal with Newport Beach-based Stillwater Investment Group, which, along with the Newport Beach office of financial partner CrossHarbor Capital Partners, bought the Aliso Viejo office campus in 2016.
"This will give them plenty of room to expand" and better allow Glaukos to attract employees from other parts of OC, Drachman said.
Aliso Viejo has one of the largest concentrations of medical device and ophthalmology-related businesses in Southern California, with several publicly traded companies and their affiliates, foreign companies and privately held firms within a few miles of Glaukos' new home.
The Element campus also includes about 2.5 acres of vacant land that could accommodate additional development, and Glaukos is in discussions to buy it. The land is entitled for 46,000 square feet of office space.
JLL's Byron Foss, Nick Carey, Wade Tift and Curtis Ellmore represented the landlord in the lease, and Savills Studley's Taylor Wood, Dillon Dummit and Wayne Lamb represented Glaukos.
Growth Mode
Glaukos is in full growth mode, company officials made clear this month after its third-quarter earnings report.
"We continue to invest and expand our sales force, marketing and market access teams, both in the U.S. and abroad," Chief Executive Thomas Burns told analysts during the Nov. 7 earnings call.
"As we progress through 2018 and into 2019, our primary focus remains on long-term growth," Chief Financial Officer Joseph Gilliam added.
The company reported sales of $43.9 million in the quarter, up 9% year-over-year.
This month Glaukos upwardly revised its full-year sales projection to $175 million to $177 million from prior guidance in the mid-$160 million range.
Performance "has exceeded our expectations through the first three quarters of this year," Burns said.
The move to larger headquarters is another notable sign this year of expansion for the company, which is about two months into the rollout of a new iStent-related product in the U.S.
The iStent line has been used on more than 400,000 eyes since getting federal regulatory approvals about six years ago.
Shares of the company's stock have nearly doubled this year to a market value of $2.1 billion.
Much of the run-up came in September when Fort Worth, Texas-based competitor Alcon pulled its CyPass Micro-Stent from the market, citing safety issues.
Glaukos executives said they remain confident in the safety of its products.
The iStent line has "stellar clinical safety and efficacy results, [and] predictable performance," Burns said.
QLogic Makeover
Stillwater and CrossHarbor bought the Aliso Viejo campus around he start of last year for about $36 million. It was previously owned and occupied by networking products maker QLogic Corp., long one of the city's largest technology companies.
After a short lease-back period, QLogic—which now operates as Cavium Inc.— moved its shrinking local operations to Irvine (see tech column, page 27). The new ownership group has spent about $5.5 million renovating the property since its departure, according to Drachman, whose company was formed in 2014.
Stillwater has bought several hundred million dollars' worth of commercial real estate since its founding, including about $150 million worth of deals with Boston-based CrossHarbor, whose OC operations are headed by Managing Director Eric Boyd.
"We felt really good about this project, because we loved its location in the city of Aliso Viejo, and its proximity to new and planned housing in South County," said Drachman, who said tenant interest had been strong since the new ownership group began marketing the site as Element early this year.
Most prospective tenants were looking for smaller portions of the campus for lease; Glaukos was one of the few full occupiers that took an interest in the site, he said.