General Counsels Honored
Wednesday, November 14, 2018
Share this article: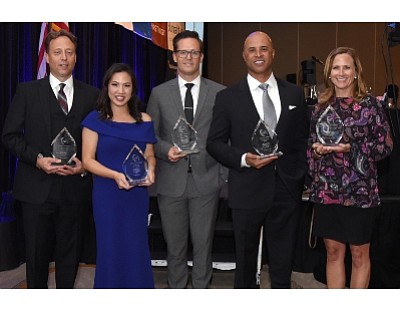 A crowd of more than 400 members of Orange County's corporate and legal communities gathered to honor this year's top in-house lawyers at the Business Journal's ninth annual General Counsel Awards.
The event, held Nov. 13 at Hotel Irvine, honored four lawyers and one legal team in five categories.
Erwin Chemerinsky, the founding Dean at University of California-Irvine School of Law, again served as master of ceremonies for the event. Chemerinsky is Dean of Berkeley Law.
The honorees, selected from a pool of more than 50 nominees, are:
• Troy McHenry, executive vice president, general counsel and corporate secretary of HCP Inc., in the Public Company category
• Paul Bokota, division vice president and division general counsel of Spectrum Brands Inc., in the Private Company category
• Stacey Jue, assistant general counsel of ABM Industries Inc., in the Specialty Counsel category
• Bruce Larson, vice president and assistant general counsel at Advantage Solutions, in the Rising Star category
• Edwards Lifesciences Corp. for its In-House Legal Team
The Business Journal will profile each of the honorees in our Nov. 26 issue.