Midday Stock Roundup
Thursday, November 8, 2018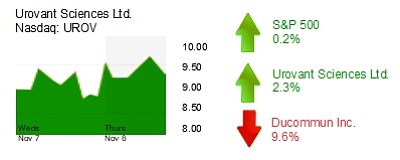 The S&P 500 was down 0.2% to 2,809.78.
The Dow Jones was up 0.2% to 26,221.73.
The Nasdaq dropped 0.4% to 7,541.46.
The yield on a 10-year Treasury bond jumped 0.5% at 3.23%.
The price of gold was down 0.4% $1,224.
Healthcare
Shares of Irvine-based biopharmaceutical company Urovant Sciences Ltd. (Nasdaq: UROV) increased 2.3% to $8.60 and a $258 million market cap. The clinical-stage drug maker, focused on urologic conditions, announced today it completed enrollment of its flagship drug candidate vibegron in an international third phase trial for adults with overactive bladder.

Technology
Shares of Santa Ana-based Ducommun Inc. (NYSE: DCO) slipped 9.6% to $40 and a $457 million market cap. The aerospace and defense engineering and manufacturing firm's stock rose 16% in the two trading sessions after releasing its third quarter results on Nov. 5. The shares are still up 40% this year.